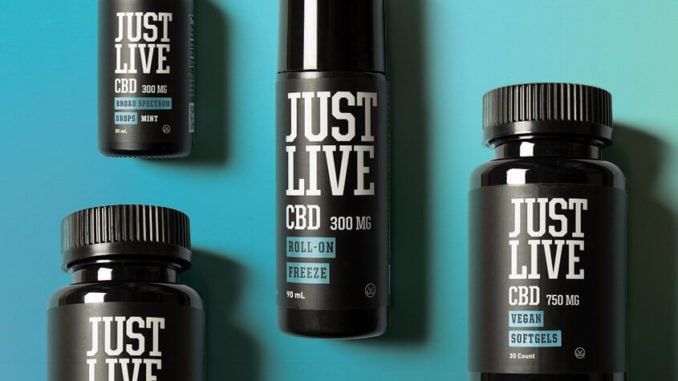 You may be familiar with the term "Live and Let Live," an expression used by people who don't care what others think and do what's best for them. This motto is what fuels the company called Just Live, a CBD brand that offers a wide variety of CBD creams, gummies, oil drops, and balms. Today we'll be reviewing two of their products: the CBD Pain Relief Cream and the CBD Broad Spectrum Oil Drops. Perhaps these two CBD products can help you perform your best in your daily activities, whether it be decreasing pain or improving your overall health.
Quality
All of Just Live's products are produced using high quality hemp that is grown within the USA. Each of their products are tested by a third-party lab to confirm the authenticity and purity of the product. The hemp is extracted using decarboxylation to activate the CBD cannabinoid. The distilled and THC-free oil is used to craft all of the products seen on their website, and you can read more about their painstaking harvesting process here.
Lab Testing
Just Live offers third-party independent lab testing for all of their products. Simply scroll down to the bottom of the homepage and click on the Certificate of Analysis tab. You can then view the lab test results of all the products: gummies, supplements, tinctures, and topicals. Each category is listed for quick browsing, and shows that their products are 100% natural, contain less than 0.3% THC, and are non-GMO.
Packaging
The Pain Relief cream and the CBD Oil Drops both came in black colored bottles and canisters. Because of this, I wasn't able to see the color or amount remaining of either product until I opened and tried it. Each had the company logo displayed on the front in large white letters. The product name was displayed in a light blue text box, along with the strengths of each product listed next to it. On the back of the product labels, both the cream and the tincture have THC FREE listed in large blue letters, as well as a Made In The USA stamp.
The suggested use for tincture says to take one dropperful, release under the tongue, and swallow. You can take the oil drops once every six hours, either under your tongue or mixed in with food or a beverage. I noticed that the amount of time to keep the tincture under your tongue wasn't listed, but you should try for at least 60-90 seconds. For the pain cream, the suggested use instructions say to massage a dime-sized amount on the pained area, making sure there is no broken or thin skin. You can use the cream 1-4 times a day, if needed.
The pain relief cream has quite a lengthy ingredients list: Water (Aqua), Glyceryl Stearate, Glycerin, Butyrospermum Parkii (Shea) Butter, Squalane, Cannabidiol, Cyclodextrin, Menthol, Cetearyl Alcohol, Stearyl Alcohol, Sodium Stearoyl Lactylate, Cannabis Sativa (Hemp) Seed Oil, Camphor, Bixa Orellana Leaf Extract, Jacaranda Mimosifolia Flower Extract, Kalanchoe Pinnata Leaf Extract, Argania Spinosa Kernel Oil, Arnica Montana Flower Extract, Calophyllum Tacamahaca Seed Oil, Cocos Nucifera (Coconut) Oil, Orbignya Oleifera Seed Oil, Astrocaryum Murumuru Seed Butter, Gardenia Taitensis Flower Extract, Deoxyribonuclease, Theobroma Grandiflorum Seed Butter, Glucose Oxidase, Lecithin, Polyglyceryl-3 Diisostearate, Tocopherol, Xanthan Gum, Sodium Hydroxide. The tincture ingredient list is quite a bit less, with only two ingredients: Sustainably Sourced MCT Oil, Natural Flavor.
The Just Live website aslo had all of the label information listed on their website for the respective product. I thought this was a nice touch, as you can view the information before you buy as well as when you have the product in your hand.
Product Review: Just Live CBD Oil Drops
I was able to easily unscrew the dropper from the glass bottle and immediately noted that the oil drops were a light yellow color. The consistency was very fluid and both the color and viscosity reminded me of vegetable oil. I held the opened bottle to my nostrils and despite being a mint flavored tincture, I was pleased to detect a warm citrus and light hemp scent. The bottle dropper was not graduated, nor were there any markings on the glass to show how much a serving size of 1mL would be. I filled the dropper as best I could, and carefully released the contents under my tongue. I noted that the oil was easy to keep under my tongue for a few seconds. The oil drops had an oily texture and a wonderfully smooth yellow flavor. After I had swallowed, I detected a strong flavor of hemp, but it wasn't unpleasant or overpowering. It was actually a nice pine flavor that mingled beautifully with the mint flavor. The lingering hemp aftertaste was pleasant as well, and I could easily see myself consuming this throughout the day with no issues.
Product Review: Just Live CBD Pain Cream
The Pain Relief Cream thin bottle had a plastic cap that was easy to remove in one gentle pull. The stubby spout had a very thin hole that released a thin squirt of white cream. The cream had a very faint lotion scent, but once applied, a strong menthol scent was quickly detected. The cream dried very quickly and left my hands feeling soft and luxurious. There was no greasy residue left behind and the cream dried completely clear. The scent reminded me of Vick's VaporRub in scent, but not quite as strong. The light menthol scent wasn't overpowering.
The menthol in the cream was very pleasant on both my hands and the back of my neck, two areas where I have minor pain in. The mentholated tingling began slowly but was definitely noticeable after a few minutes. I felt like the cream penetrated deeply into my skin and the menthol tingling lasted for several minutes. I really appreciated that the scent wasn't overpowering and that the menthol didn't feel like it was burning my skin due to its strength. The menthol helped soothe my aching neck muscles and I really appreciated the luxuriousness of the cream's scent and texture. I highly recommend this pain relief cream to anyone looking to spot-treat minor pain.
Price vs Value
The Just Live website has several oil drops available in different strengths and flavors. The Broad Spectrum Drops are priced at $99.99, but you can save a whopping 20% if you sign up for their subscription service. Their Pain Relief Cream goes for $69.99, with the same 20% discount and free shipping if you subscribe for monthly purchases. These prices may seem more expensive than other comparable products, but keep in mind that both of these products contain high amounts of broad spectrum CBD that contain no THC. The site currently offers a 25% code for any Mother's Day gifts, so be sure to stock up while you can!
Just Live Company Information
Similar to Nike's motto, Just Live was created by athletes, for athletes. They created an all-natural formula that is instilled into each of their products. Their simple collection of topicals, oil drops, supplements, and gummies are designed to help you live your best life, the way that you intend to. Their website is full of information, including an education and community tab that keeps their customers well-informed and connected. One thing I really appreciated about the site was the ability to shop for products based on their benefits. Many people don't know what the true purpose of CBD is, so these products take the guesswork out of choosing a CBD product. Whether you want to increase your performance, sleep, wellness, or relaxation, Just Live has you covered.
Conclusion
I wasn't expecting to love these products as much as I did, and I thank Just Live for allowing me to review these products. The quality is superb, the simple design resonates with minimalists, and the overall health benefits are fantastic. I appreciated the plethora of information listed on their website, and the organization to create categories and informative descriptions reflects well on the company. I highly enjoyed both of these products and recommend them to anyone looking to start their CBD journey.
If you've tried any of the products from Just Live and would like to share your experience, drop a comment below! If there's anything in this article that you'd like explained or clarified, don't hesitate to reach out to us via email. Our mission is to showcase the fine world of CBD, taking the guesswork out of choosing high-quality brands and powerful products. Our next CBD review will be from a brand we've previously reviewed, called CBD+CBG Tincture from Bespoke. Check back soon for this and other fantastic CBD and Delta-8 THC product reviews!
Disclaimer: Please note that results and effects discussed above are based on a variety of different factors that could be unique to the individuals who were involved in our reviewal process. With that being said, the results and effects that you experience if you were to try this product may differ and any results or effects discussed above are not guaranteed. The results and effects experienced by our staff and individuals involved with the reviewal process are discussed solely for entertainment purposes and should not be interpreted as medical advice. We highly recommend consulting your physician before trying CBD.