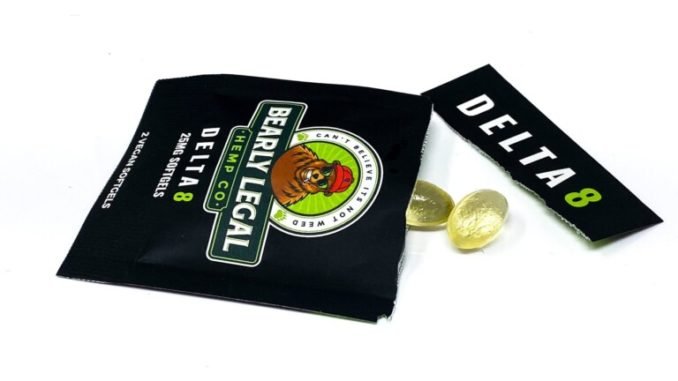 If you know anything about Delta-8 THC, you know that this particular cannabinoid is actually legal. Despite only containing 0.3% THC, Delta-8 products give off a powerful mind and body high that many wonder how the heck is it possible to get high from. Today, we'll be reviewing a Delta-8 THC product from a company that pokes fun at the legality of Delta-8 THC, called Bearly Legal. Don't be fooled by the amusing and playful name though, as their products offer a powerful high that is greatly appreciated and enjoyed by their customers.! Bearly Legal products come in all shapes and sizes, but today we'll be reviewing their Delta-8 THC Softgel in a 2-pack sample size!
Softgels are a simple way to consume Delta-8 THC: simply place in your mouth and swallow, preferably with a swig of water. Softgels are an option for those who don't like artificial flavorings in tinctures, the slimy coating and hemp aftertaste found in some chewy gummies, or the need to inhale smoke or vapor from vape and flowers.
On the Bearly Legal website, there are two options for their softgels: a two-pack sample pack for $10, or a 30-pack for $69.99. There are occasional sales on this product that allow you to get it a little cheaper, but other than that, there is no discount for buying multiple quantities nor is there an option to have a subscription.
I picked up the two-pack sample size at $4.99, each softgel containing 25mg of Delta-8 THC. The package is about the same size as a standard condom packet, allowing you to take the softgels with you in a coat pocket or small purse. Since one softgel is considered a single serving, be careful that you can handle 25mg of Delta-8 THC in a single serving. If you're just starting out on your Delta-8 THC journey, you may want to start off with something a little less potent (like half a gummy). If you're confident you can handle the amount of Delta-8 THC in this softgel, more power to you! Let's begin with the product review now, starting off with the experience and wrapping up with the product packaging.
Product Review
When I first tore open the small packet, I was surprised to see the color of the softgel, more specifically, that it was a matte softgel that looked almost yellow in certain angles. In reality, it was just a slightly opaque capsule, about the same size as a jellybean. I like to test the softgels durability by squeezing very firmly. This softgel remained solid for a while, but eventually exploded under the pressure. I ended up scooping the remnants into my mouth and swallowed it quickly. I don't recommend doing this, as it reduces the bioavailability of the Delta-8 THC, but I didn't want to waste it. The entire capsule had no taste and I quickly forgot I had even taken it. After about an hour and a half, I began to feel the effects of the Delta-8 THC. I started feeling dizzy and euphoric, as well as slightly hazy. I noted that my eyes were slightly red, fondly referred to as rabbit eyes, and that my vision became slightly blurred. I became lethargic and wanted to go to sleep, but was curiously awake and alert at the same time. There was a strong pleasant tingling in my face, legs, feet, and hands, making them very sensitive to touch. I felt a light pressure in my nose near my sinuses, something I used to feel when experiencing a Delta-9 THC high. There was a light tightening of my jaw, as well as a weighted feeling behind my eyes. I had some difficulty holding a pen to jot down some notes, and ultimately I fell into a blissful sleep. I was extremely relaxed and while still "high," I was fully aware of my surroundings and didn't ever feel trapped, paranoid, or anxious, some common side effects of Delta-9 THC. My high lasted for several hours, but never became more than I could handle.
I fully understand that the high produced by Delta-8 THC is different for every user. Your high may vary based on your height, weight, age, and other factors. You may already be accustomed to the effects of Delta-8 THC products if you have taken marijuana before. If you're taking Delta-8 THC products for the first time, you should start off with small doses until your body is more accustomed to it. You should never operate machinery/vehicles while under the influence of a Delta-8. I wouldn't recommend taking Delta-8 THC products while working, as the relaxed sensation may tempt you to take a nap or prohibit you from otherwise fishing your work. As always, you should consult your primary caregiver before trying Delta-8 THC products for the first time.
Lab Testing
Bearly Legal offers third-party independent lab testing via PharmLabs, as well as a very in-depth explanation of why they use them. To view these tests, you'll need to scroll down to the very bottom of the page, where it says Customer Service. Navigate to the Lab Reports & COAS tab and click on the tab to view the entire list of lab testing. These tests are updated from time to time, which you can view when you click the CLICK HERE FOR THE LATEST BEARLY LEGAL COA AND LAB RESULTS tab. I appreciated the dedication to quality and the wealth of information that Bearly Legal strives to provide.
Hemp Information
All of Bearly Legal's hemp is grown indoors and is a Grade A+ level. This allows them to create some of the highest quality Delta-8 products on the market. Each of their products come from both narrow spectrum and broad spectrum Delta-8 THC. As such, all of their products are derived 100% from hemp, are cGMP manufactured, and legally conform to all states that allow them to be sold within.
Product Packaging
The Delta-8 Softgel two-serving pack came in a black pouch similar to the size of a condom packet. The company logo was dead-center, featuring a grinning grizzly bear with a blunt between his teeth, sunglasses, and a red baseball cap. The words "Can't Believe It's Not Weed" span a banner around the grizzly bear, making me think of a similar pun for a certain non-butter spread. On the bottom of the packet, the softgels are listed as vegan and contain 25mg of Delta-8 THC per capsule.
On the back of the small packet, the ingredients list consists of Delta-8, minor hemp cannabinoids, MCT oil, and tapioca starch. Below the ingredient list is a warning disclaimer stating that this product is not intended to reat, cure, diagnose, or prevent any disease. There are those who should not use this product (pregnant or breastfeeding women), as well as not operate a vehicle or heavy machiner. There is a brief list at the bottom that confirms the product contains less than 0.3% THC, is produced completely in the USA, and a statement that the hemp is 100% American grown and extract. The company website is near the bottom, along with a barcode and QR code. I did not see an expiration date anywhere on the packaging, but most capsules last within a year of production. I was a little surprised that there wasn't any directions or expected wait time for the capsules to kick in, but perhaps the company felt those were self-explanatory, as you should only take Delta-8 THC if you have a few hours to kill before falling asleep.
Bearly Legal Hemp Co. specializes in all forms of Delta-8 THC products, including popular products like vapes, edibles, and capsules. Their lesser known products like moonrocks, flowers, pre-rolled joints and dabs are targeted to the more experienced Delta-8 THC users. The company website is colorful, clearly labeled, professionally designed, and offers a plethora of information on every product. Each product has verified reviews, and their entire website is ranked 4.9 out of 5 possible stars. Each product offers quantity-specific discounts (i.e., buy 2, get 5%, buy 5, get 20% off, etc) that encourage larger order instead of subscription discounts. I'd never seen this approach before, but I agree with the marketing strategy of you'll buy more of what you like and know works. I loved the softgels I was able to sample and look forward to trying more of their products, particularly their sour gummy bears! I can easily recommend these products to both beginner and experienced Delta-8 THC users, and hope this review has encouraged you to try some of Bearly Legal's products for yourself!
Do you have a favorite Delta-8 THC product that you've tried, from Bearly Legal or other Delta-8 THC websites? Don't be shy, share your experiences in the comments below! Delta-8 THC offers a legal alternative to recreational marijuana, as well as a much more balanced high. If you have questions or concerns about this or any of the other Delta-8 THC products we've reviewed so far, feel free to reach out to us! We look forward to answering your questions with our experienced team of CBD and Delta-8 THC users. Check back with us soon for another review of Delta-8 THC products, this time of a Delta-8 THC cartridge from Crystal Clear!